Ozone & UV Transform Health, Life and Wellbeing
14 Amazing Ways Ozone Air Purifiers could Help Your Health!

Kill Viruses, Germs & Bacteria - Purge Odours & Toxic Gases
Ideal for Offices, Homes, Clinics, Ambulances, Shops & more...
【Ozone Air Purifiers & Sterilizers】 are the ideal way to Purify and Sterilize Air in most environments. Ozone Air Sanitizer Equipment is now available for your benefit from OzoneAir. We now offer you the latest Sanitizer Machines for Sale at a price you can afford! This 500 mg/h Ozone Air Purifier & Sanitizer - is very Popular at only R2799.00!


IMPORTANT! Ultraviolet Light kills and destroys Coronavirus - COVID-19





For Your Specific Applications call us now on

083.391.7980
»» Terms & Conditions & Money Back Guarantees ««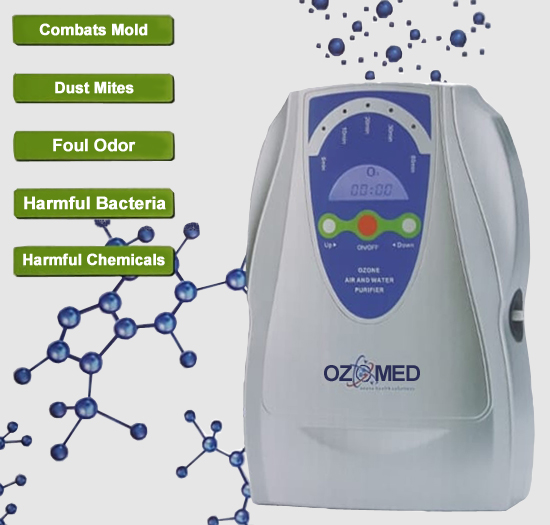 ---
Ozone Air Purifiers, Sterilizers & Sanitizers for Industrial, Office & Domestic Use
Air Purification volumes available from 25 Mg/hr - 1000 Mg/hr for domestic applications.

Primary Ozone/Ultraviolet Purifiers / Sanitizers / Sterilizers:
OzoMed

- Ozone Decontamination Machine System -

Brand New at only R7495!

Automated Non-Touch Technology
No Chemicals or other Substances Needed
Excellent Disinfection Properties compared to Wiping
NO Toxic Residues left Behind on Surfaces
Bacteria & Viruses Successfully Destroyed by Ozone
Practical, Convenient & Easy to Install & Use
Improve Personal Hygiene for Hair, Face, Clothing, etc..
Disinfect Wallets, Cash, Cellphones, Car Keys, Sunglasses
For use at Business Premises, Gyms, Schools, Hospitals, & more

OzoMed

- 500 mg/h Ozone Air Purifier & Sanitizer -

Very Popular at only R2799.00!

Ozone Production/Emission: 500 Mg/hr
Accessories: Silicon Tube with Natural Stone included
Rinse & Wash Fruit, Vegetables & Raw Meat to Kill Germs
Improve Quality & Extend Life of Fruit & Vegetables
Disinfect Tableware, Kitchenware, Kitchen Surfaces & Household Items
Improve Personal Hygiene for Mouth, Hands & Feet
Take away Toilet Smells & Odours in any Space
Rid spaces of & Decompose Toxic & Harmful Gases
Get rid of Spores & Mold in Rooms, Cupboards & Office Spaces
Sterilize Air in General, Kill Bacteria & Eliminate Dust Mites

SANI UV-C UVGI Purifiers & Sanitizers

- Read Online now...




---