Ozone & UV Transform Health, Life and Wellbeing
Why SANI Ultraviolet UV-C & UVGI Sterilization is Better than using Germicidal Chemicals and even Chlorine!

SANI Ultraviolet Kills Air / Water & Surface-borne Organisms!

Ultraviolet (UV) Disinfection sets New Sterilizeration Standards!
SANI Appointed & Approved Ultraviolet Distributor
Ultraviolet Germicidal Irradiation (UVGI) is a specific method of disinfection. To kill or deactivate micro-organisms, short wavelength ultraviolet light (ultraviolet C or UVC) is used.

Nucleic acids are destroyed by disrupting the DNA of organisms. This means they cannot perform vital cellular functions.

UV-C & UVGI can be utilized in a range of applications. This includes
Food, Air and Water Purification & Sterilizer systems.

SANI UVGI Brochures - Read Online «««
SANI UVGI Videos - Chemical free Sterilizer Solutions - View Online «««
SANI UV-C UVGI Sterilizer Systems - Full Information - Read Online «««


---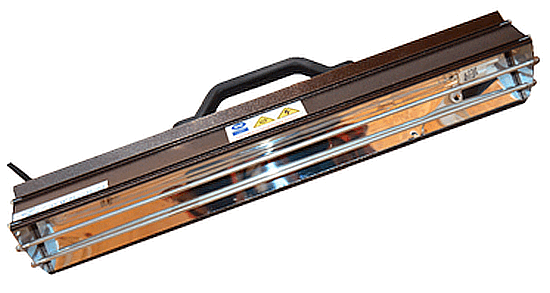 »»» SANI Handheld Ultraviolet Sterilizer Brochure - Download or Read «««


---
»»» SANI Germicidal Sterilizer Cabinet Brochure - Download or Read «««


---
11 Ways Ultraviolet Disinfection Can Make You Healthy!

UVGI Ultraviolet disinfection methods and systems are accepted practices. These have been in use since the mid-20th century primarily for Medical Sterilizeration and Sterile Work Facilities.

These processes are now also used to Sterilize Drinking and Wastewater. This is due to the holding facilities being enclosed and bringing about better circulation throughout. In turn, this ensures greater exposure to the Ultraviolet Light.

Utilizing prolonged exposure to a UV-C or UVGI Sterilizer, Air can now also be disinfected and sterilized. For your Health and Wellbeing, Ultraviolet Sterilizer Machines are now available in South Africa.


---
UV Air & Water Sanitizers, Sterilizers & Purifiers for Industrial Use:
SANI UV Submersible Water Tank Disinfection

- For JoJo's, Roto's or other Storage

Ideal UV Treatment of Water in the Food & Beverage Industries
Potent Prevention of Microbial & Pathogen Activity
Completely Chemical free Treatment Solution
Sani Submersible Units are Easy to Install
One of the Most Cost-effective Solutions, saving you Thousands over Time
Local South African manufactured UV-C & UVGI Machines since 1993
Excellent Technical Assistance & Servicing of Equipment Locally in SA

SANI Handheld Ultraviolet Sanitiser

- Ultra-Violet Surface Sterilisation System

Effectively Sanitises Bedding, Furniture, Desks & any Touch Surfaces
Potent Sanitiser for Documents, Mobile Phones, Tools, Instruments, etc.
This Efficient & Labour-saving Handheld Sterilizer offers Great Functionality
Adds great Benefit after general Cleaning with Soap and Water
The SANI Handheld UV is designed to offer 40 Joules per second
Important! Protective Eye-ware is required during Operation!
Lamp replacement only necessary after 24 months or 8000 hours of use

SANI Germicidal Sterilizer Cabinet

- Preventative Solutions for the Workplace

Top Quality South African Manufactured & very Maintenance friendly
Long Term Preventative Solutions for Your Workplace
Lamp Life Monitoring Technology is included
Adjustable Runtime & Contact time for different Materials or Items
Replacement Parts and Components readily available Locally
Power Supply is 220 Volt
Ultraviolet Wavelength 253.7 nm UV-C
Lamp replacement needed after 9000 hours of use

SANI Ceiling Disc

- Ultra-Violet Air Sterilizer System

Ideal for Gyms, Offices, Houses, I.C.U, Surgeries, Hospital Wards, Doctors Rooms, Shopping Centres, Chicken Sheds, Fruit/Veg Stalls, Meat Cold Storage, Cheese, Wine & Meat Maturing Rooms
Input: 220V - Ampere: 0.25A - Frequency: 50Hz
Source: UVC, 254nm, Germicidal
Radiated Dosage: 0.2µW/cm2 at Occupant Level as per International Guidelines
Max Volume: 30m2 - Min Volume: 16m2 (ceiling height 2.7m)
Airflow: 140m3/hr
Dimensions: 150mm x 600mm - Weight: 2.2kg
Enclosure: Steel, Powder Coated

Mobile Ambulance Machine - SANI 18

- Ultra-Violet Air Sterilization System

Effective against Micro-Organisms up to Fungal Spore Level
Ideal for Ambulances, Mini Buses, Public Buses, Food Transporters
Input: 12V & 220V - Ampere: 0.25A - Frequency: 50Hz
Source: UVC, 254nm, Germicidal
Max Dimension: 30m2 - Min Dimension: 16m2 (ceiling height 2.7m)
Radiant Energy: 0.2µW/cm2 at Occupant Level as per International Guidelines
Airflow: 140m3/hr
Dimensions: 150mm x 600mm - Weight: 2.2kg
Enclosure: Steel, Powder Coated

Ultra-Violet Air Steriliser System SANI 18 & 55

- Ultra-Violet Air Steriliser System

Effective against Micro-Organisms up to Fungal Spore Level
Gyms, Offices, Domestic, I.C.U, Surgeries, Hospital Wards, Doctors Rooms, Shopping Centres, Chicken Sheds, Fruit/Veg Stalls, Meat Cold Storage, Cheese, Wine & Meat Maturing Rooms
Effective against Staphylococus, Streptococcus, Shigella Paradysenteriae, Spirillum Rubrum, Pseudomonas, Escherichia Coli, Myobacterium Tuberculosis
Also against Yeasts - Saccharomyces Cerevisiae
Against Mould Spores - Aspergillus Niger
Trials by the C.S.I.R., Infruitec have proven the Efficiency of this product in Controlling both Aspergillus Niger & Botrytis Cinerarea Spores. A complete Radiation Dose Table is available
Input: 220V - Ampere: 0.2A - Frequency: 50Hz
Maximum area: 22m3 & 35m3
Nominal Air flow: 70Nm3/hr & 100Nm3/hr
Dimensions (mm): 500 x 160 x 60 & 1200 x 160 x 60
Weight: 1.2 kg - Enclosure: Both Aluminium Powder Coated
Source: Both UVC, 254nm Germicidal
Radiation Dose: Both 3000µW/cm2 inside Box
»»
Contact

OzoneAir

to Order your Product
««
---